The main task of the Communications Division is to maintain contacts with the public and representatives of mass media, public organizations, and state institutions as well as with all Ignalina Nuclear Power Plant staff, informing about the current and future processes in the company, the results achieved the implementation of reforms, decommissioning projects and other relevant activities of the company.
___________________________________________________________________________________________________________________________
VISIT TO INPP EXHIBITION HALL
(TEMPORARILY VISITS ARE NOT PROVIDED FROM OCTOBER 1)
PURPOSE: Visits are organized for schoolchildren and other persons, who are interested in nuclear energy, mainly in INPP construction history, operation and capacity, main safety systems, decommissioning plan and forthcoming repositories for radioactive waste.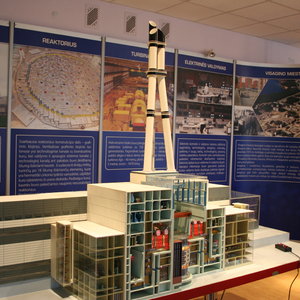 CONTENT: At the exhibition hall you can find a model of RBMK Reactor Unit; a model of a fuel assembly and a model of the spent fuel cask CASTOR. During the tour you can watch the direct view of the plant, namely: the Reactor Hall, the Turbine Hall, the Spent Fuel Storage Pool and Control room.You can also watch video films (INPP history, construction works, radiation). Using virtual reality glasses, we present the ongoing stages of spent nuclear fuel management.
DURATION: ~ 1 hour. Visits are organized from Monday to Friday.
PRICE: free of charge.
MAX NUMBER OF PARTICIPANTS: up to 20 people in lithuanian, russian or english language.
ORGANIZATION: from 10 am and from 1 pm. Tours are organised only upon prior request. Please arrange your visit by phone (+370386) 28512, (+370386) 29911 or by e-mail: info@iae.lt

ADDRESS: Elektrinės str. 12/1, Druksiniai village, Visaginas municipality (google maps).


We keep the right to take photos / videos during the tour, so you can be seen in photos and videos. Photos / videos can be published on the INPP website or on social network in order to inform the public and publicize INPP activities.